Hi all,
Here is something new again! Probably not as much interesting as the Vanity203HD, but I want to show you anyway

For easier evaluation of our IP cores and any custom algorithm development the Audiopraise team has designed this universal FPGA board. There is a mid sized FPGA from the Spartan 6 family, plenty of digital audio inputs and outputs (one analogue output too) and our digital clock recovery we call BLL - buffer locked loop. The FPGA in between the inputs and outputs can run any kind of processing - input signal decoding, upsampling, downsampling, filtering, format conversion, sigma-delta or PWM modulators, etc. The board can act as a high-end DAC front end as well as stand-alone processing unit, there are plenty of applications.
The board at a glance:
- Spartan 6 FPGA in FT256
- XU216 XMOS processor for USB Audio
- HDMI Audio IN & OUT
- AES/EBU, SPDIF, TOSLINK, I2S/PCM, DSD inputs and outputs
- 2x low jitter oscillator for clock recovery
- fully differential latched 1-bit DAC
- Headphones output with volume control for monitoring
- LED meters for basic signal diagnostics
- USB UART for diagnostics and control
We will make detailed specifications available soon on the main pages. If there are any questions in the meantime, don't hesitate to ask here.
Regards,
Pavel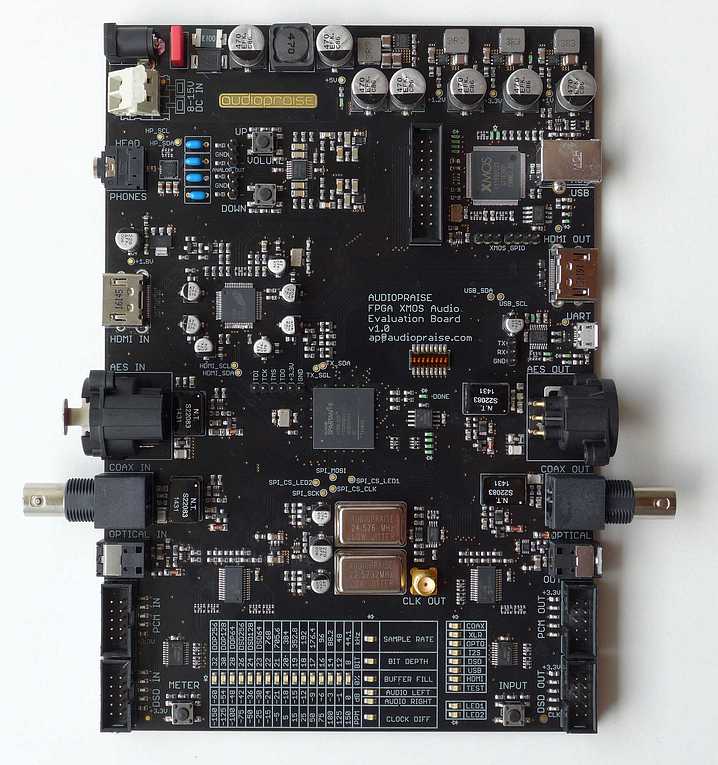 Edited 1 time(s). Last edit at 05/16/2017 09:51AM by AP.