Hi all,
After many hours, days and weeks of architecture development, PCBs routing, FPGA and microcontroller programming, we are proud to announce a new DAC platform we call CZAP. It was created to push the limits of digital to analog conversion, deal with all potential sources of noise and distortion and maintain the most transparent signal path in digital as well as analog domain. The digital processing and the DA system, usually occupying few square inches on a board, spans over two large four-layer boards and utilizes almost two thousand components. All the unique technology we have developed over the last 8 years has emerged in this project.
The core of the platform consists of two boards. The "digital" board is loaded with various digital inputs and synchronization outputs, an FPGA with vast computational power for signal processing, powerful microcontroller and galvanic isolation towards the "analog" board.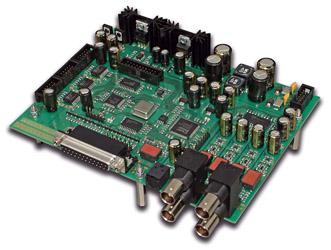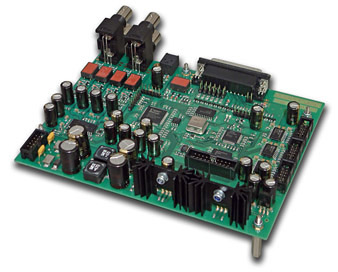 Main features:
- four transformer isolated 75Ohm BNC coaxial SPDIF inputs with linear amplification
- one optical TOSLINK input
- I2S and DSD (SDIF) inputs via DB25 connector with optional termination
- I2S input via internal header for optional USB and HDMI connectivity
- DSD over PCM (DoP v1) support at all inputs
- supported sampling rates:


* SPDIF&TOSLINK: 44.1/48/88.2/96/176.4/192 kHz
* I2S: 44.1/48/88.2/96/176.4/192/352.8/384 kHz
* DSD: 64/128 Fs

- multistage input signal switching for maximum isolation of active channels
- blank SPDIF synchronization output
- word clock synchronization output
- trigger in and out
-------------------------------------------------------------
- single stage upsamling to 352.8/384kHz for all input sampling rates
- two selectable LPCM upsampling filter characteristics
- supports asynchronous FIFO buffering for isolation of clock domains
- high quality DSD to PCM conversion to 352.8kHz
- two selectable DSD to PCM conversion filter characteristics
- isolated audio and control data output
-------------------------------------------------------------
- 32 bit microprocessor for system control
- RS232 via DB25
- connector for display and front panel
- low-noise discrete power regulators for clock and output circuits
- dual power input with isolated standby control
The "analog" board carries the DAC chips, low jitter tunable oscillators, analog signal processing circuitry and our unique hybrid volume control system. All power regulators on the board are ultra low-noise discrete type and there are 16 of them in total.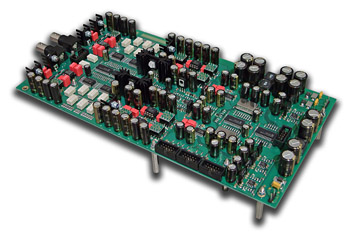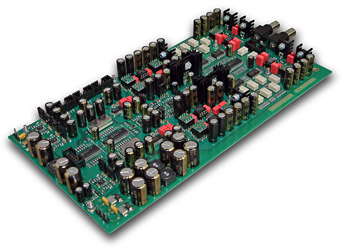 Main features:
- two AD1955 in dual mono configuration and external digital filter mode
- two low-jitter digitally tunable oscillators (22.5792MHz and 24.576MHz)
- reclocking stage for audio data input
- high-speed buffered I/V conversion stage
- hybrid volume control system with 0-99dB attenuation range
- constant-impedance single-element attenuation matrix
- low-impedance discrete output driver
- low-noise discrete regulators for all digital and analog power lines and references
These two boards create a complete high-performance digital to analog conversion system when combined with a power supply and user interface system.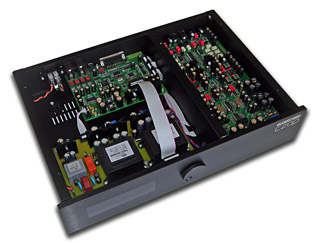 Main features of the prototype unit:
- five independent power supplies for digital and analog boards
- shielded chamber for analog board
- jog&dial user control with OLED display
- IR remote control
Preliminary system measurements (unweighted) with 997Hz sine, -6dB, 48kHz FS input
- THD<0.00008%
- THD+N<0.00013%
- SNR>117,5dB
These are the limiting values of the recording device, the real performance is expected to be significantly better. The sound is absolutely natural and transparent, just as a state-of-the-art system can provide.
The platform or any of its part is available primarily to audio electronics manufacturers. Both boards are highly configurable and detailed specifications can be provided upon request. Should you have any questions, please feel free to discuss it here. The prototypes will be available for audition in the United Kingdom and Czech Republic.
Best Regards,
Pavel
Edited 6 time(s). Last edit at 06/02/2017 11:59PM by AP.